PD (Pupil distance) Explained
We require your pupil distance (PD) to ensure you will get the best optical vision from your sports eyewear. With the measurement, we can ensure that the prescription lens optical centre is directly in line with each of your pupils. Most adult PD's are between 60-65mm the average being 63mm. The best and most accurate measurement of your PD will come from an optician. If you don't have a PD measurement on your prescription form, you can always contact your optician and ask them for it. If for any reason your optician is unwilling to provide the information, you have 2 further options.
PD (Pupil distance) is simply the distance between pupils as the diagram below illustrates: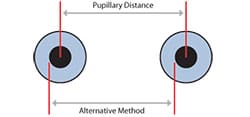 Option 1 With a ruler… to obtain a P.D. Measurement using a ruler is quite straight forward, providing. The prescription powers are quite low, (if you have been told that you have a high prescription, don't attempt this method). Also best if you can find an engineer or joiner, someone who is used to making accurate measurements.  Looking straight ahead take an mm. ruler and place it over the bridge of the nose. With the 0 over the centre of your left pupil, measure to the centre of the right pupil. If the eyes are very dark and the pupil cannot be seen clearly you can measure from the inner edge of the left iris to the outer edge of the right iris (see diagram above). We recommend you take at least 3 measurements and providing they are within a couple of millie meters of each other, you should have an accurate value.
Option 2 From a picture… We will make the measurement for you. We require a headshot photograph with the person who's PD we are measuring holding a credit card under their nose touching their lip. Imagine they are holding a false moustache in place, see image below.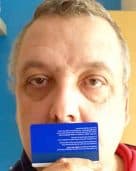 Note: If you are unsure about any of the advice given above you can always contact us and speak to a professional. We will be happy to clarify any points or talk you through the process. Call us on 0161 427 8977 our emergency number is 0797 3333 046