Ski goggles options for glasses wearers
So you are going skiing and you wear prescription glasses, what are you going to do. The first misconception is that you can buy ski goggles with a prescription lens in the frame, you can't. The two main reasons are, most ski goggles are a single lens. You have two eyes and require two optical centers. If a prescription lens could be made, it would be very thick and very heavy. Of course, there are always exceptions and if you are willing to compromise. You can get a low profile goggle that can be directly glazed to your prescription. As you would expect, UK Eyewear offer one and you can find it, HERE
So what are the realistic affordable options? Vision problems will stop you from enjoying your winter sport. For anyone who can't wear corrective contact lenses, prescription ski sunglasses are a very good alternative for when the weather is good. But if the weather takes a serious turn for the worse then you can't beat a pair of ski goggles to cope with wind, cold and snow. They'll offer you unparalleled comfort and vision if you get the right lens. We offering an even wide choice of glasses and goggles this year. Eyewear for the whole family with a range of sizes colour and to suit every budget.  We offer prescription solutions whether you are short-sighted, long-sighted or astigmatic and we offer reading corrections with prescription lenses that incorporates a reading spot.
OPTICAL INSERT… By far the most common is to buy a ski goggle with an optical insert. The insert is mounted inside the goggles and the goggles can be take off whilst the insert stays in place. You can buy the optical insert in both adult and junior sizes. The prescription lenses can be correcting just your distance vision or if you require to read a piste map. Then you can have a dual vision lens made with a reading spot correcting both your distance and near vision. You can also buy just the optical insert with prescription lenses and fit it to an existing pair of goggles.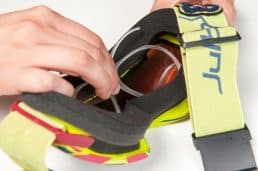 OTG GOGGLES… If you have decided that you prefer a ski goggle, then you have two options. The first option is an OTG goggle (goggles that fit over glasses) and they can be bought from as little as £20.00 OTG Ski Goggles Top Tip… If you are considering going for the OTG goggles route. Make sure the glasses you will be using have an anti-fog coating or take an anti-fog spray or gel, we sell both.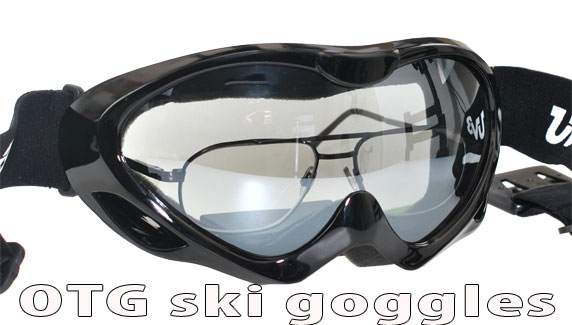 Recommended by us:
The best adults prescription ski goggles, we give this to the Adidas backland Vario. 2 reasons a single lens that ranges from Cat 0 to Cat 3. Adidas to our knowledge is the only ski goggle company that has designed a prescription insert for their goggles. For all other manufacturers, you have to use an aftermarket insert, optically not as good. If the Adidas Vairo is over your budget, then the Adidas Blackland LST a great intermediate goggles Cat 2.
The best kids prescription ski goggles, that would go to Bloc and their model Moon a high-quality goggle with a Cat 2 intermediate lens. Unlike adults, kids tend to wear their goggles all the time. With the weather being so unpredictable you need a goggle that will work in dull and bright conditions. If the budget will stretch to it, you can get a Cat1 to Cat 3 photochromic goggle for your child HERE